Synerise Q1 product roundup
Business may be a challenge this year, but we are here to help you make the most of it. It has been an exciting first quarter with several new features added that will prove valuable to your business operations.
Data transformation  
When working with data, you've likely found yourself in situations where the data doesn't match the parameters required by your project. With our data transformation process, we can alleviate these limitations, allowing you to significantly streamline your workflow and easily make changes at any time, without the need for programming skills.   
With data transformation, you can transform data to the desired format using an intuitive library of nodes that make modifying data easy. The process of creating a data transformation is simple and fast. You should always start the transformation from the Data Input node, where you download the data file in which you want to make changes. Next, you need to add more nodes depending on the planned changes and finish the transformation with the Data Output node, where you will see all the final results of the modifications.   
Predictions 
Our powerful prediction models allow you to create sophisticated predictions based on data already stored in the platform. We have created powerful models that allow you to create different types of predictions depending on your current business needs. We use the latest machine learning and statistical techniques to answer your questions. Depending on the question or problem that you want to answer you can choose from the following models: 
Custom predictions
Lookalikes
Propensity
How do you decide which model to use? What are the criteria? 
Each of these models contains specific algorithms that help find a solution/answer to a specific question. Let us see how each of these models works, which will help us answer the question of when to use which model.
Custom predictions 
Custom prediction module allows you to predict any customer actions that can be calculated using expressions, giving you the ability to predict valuable customer events allowing you to make more informed business decisions.  
Using this model, you can predict, for example, the churn likelihood among your customers, you can also identify customers who visit a specific product page or have a high probability of making a purchase from an abandoned cart, giving you the opportunity to save costs by targeting communications to the right group of customers who are more likely to convert. 
To build a prediction using a custom model, you first need to select the type of prediction depending on what kind of output you want. You also need to define the target audience for which you want to create the prediction and the prediction target based on which the prediction will be created. At this point, two more steps remain, including selecting the model inputs that support the prediction process and setting the model conversion schedule.  
Lookalikes 
Use Lookalikes to identify potential customers with similar characteristics, who you can then reach out to for your next campaign. 
To set up this type of prediction, start by creating source and target segments. The source segment contains the customers who responded best to previous marketing efforts, while the target segment contains the group of customers you will compare to the source segment. In additional configurations, you can set the prediction duration and the prediction scale.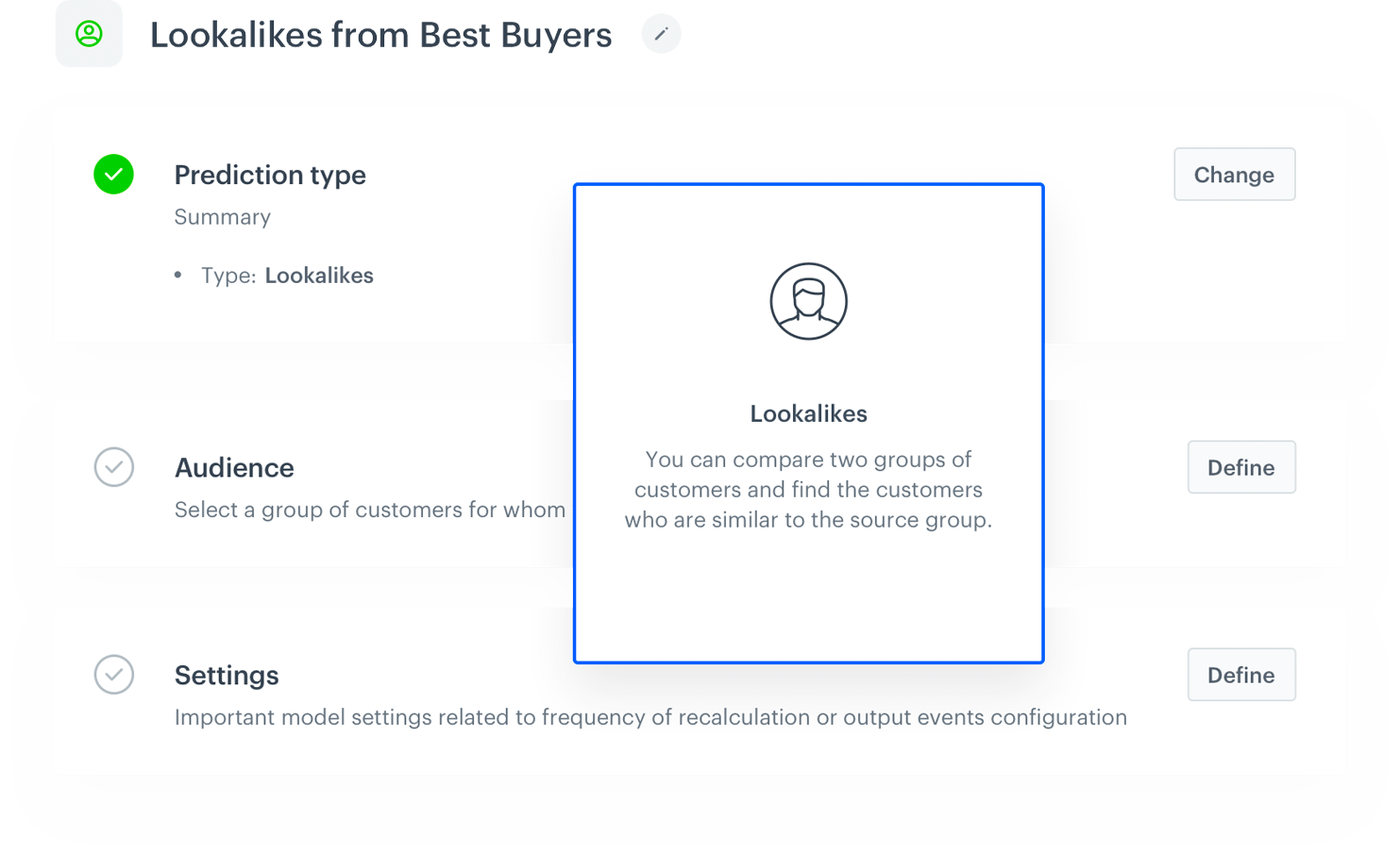 Identify potential customers with the same characteristics as your "model" customers for your next campaign. Refresh your models and create segments based on your findings. 
Propensity
Propensity models help you optimize the promotion of your products by providing a measure of how likely a customer will be to buy a product with specific features like style, color, brand, etc. It helps you increase sales and profitability.  
The propensity model can be created in a few simple steps, which include the creation of segments that should be analyzed in the prediction. In the next steps, select the item feed to be analyzed from the available catalogs, while defining filters including the items, you want to calculate a prediction for. As in the case of previous prediction models, you can set the duration of the prediction calculation and the prediction scale, as the default settings cause a one-time calculation and presentation of results on a 5-point scale.  
Prediction self-service model management 
Our prediction self-service model management system allows you to manage the current state of your models at your convenience, without the need to involve third parties in the process. Our system lets you turn models on and off, set all their necessary settings, and manage their status yourself at your convenience. 
Recommendations 
Attribute & section recommendations 
With attribute recommendations, you can improve product personalization on your site by recommending product attributes that promote colors, styles, brands, and other product features.  
To create an attribute recommendation, you must first select a feed that will be the source for the items displayed in the recommendations. If you want to include additional information about the items in your feed, you can use a meta catalog. In the next steps, you need to specify how the items will be displayed in the recommendation frame. To do this, you can use slots to assign space in the recommendation frame to specific items. Define the boosting factors that affect the layout of items in recommendations and use the additional settings if you want to make additional determinations.  
Section recommendations allow you to create sections on your website that promote any feature of an item and are further personalized for each customer.  
Create separate sections on your site that promote different features of items, including categories, brands, etc., to give customers an even better experience and personalized offers. You can set up the section recommendations just as you set up the attribute recommendations, enabling you to quickly configure all the necessary settings. 
Customer filters in recommendations 
Customer filters open up new possibilities for recommendations, where you can use extremely valuable customer information to make recommendations based not only on product features but also on individual customer preferences. Collect information about your customers, store it in their profiles, such as their favorite brand, materials, colors, sizes, etc., and use it to make their experience more personalized and memorable.   
Boosting in recommendations 
The boosting recommendations functionality allows you to strengthen a specific brand or product in the personalized recommendation results without limiting the customer's way to choose among competing brands' products.  
You have full control over how products are displayed in customer recommendations by defining filter boosters. This allows you to influence the results and focus on specific products while hiding others that you don't want to display for various reasons.   
When building a boosting rule for any type of recommendation, you need to determine whether you want to promote or demote predefined features and decide to what extent you want the rule to affect the recommendation results.   
Advanced Model Health  
Advanced Model Health is a convenient and efficient feature that allows you to see the state of all models at your disposal, which allows you to take action on them if they need it and prevent problems before they happen.  
With Advanced Model Health, you can monitor the current state of the model to see if it is being trained or if any errors have occurred during the training process, allowing you to react quickly and eliminate problems that may arise immediately. All model statuses with their explanations can be found here. 
AI Search 
Advanced scoring settings in AI Search 
We have created several new advanced features to make your search engine smarter and more advanced than ever before. By taking advantage of these new features, you can tailor your search engine to be perfectly suited to your business goals.   
Advanced options include: 
Search engine A/B tests 
With our new feature in AI Search, you can easily test different search configurations for your business.  
Within minutes you can select the settings required for the test without making any changes to the existing search implementation. Simply create variants based on the production variant, adding subtle changes to each of them, and the platform will divide customers between variants in real time. 
You can also gain immediate insight into A/B test results with built-in analytics and you compare the variants' performance in real time. The winner of the test becomes production-ready with the push of a button! More detail regarding this solution can be found here. 
Notification Panel 
The Notification Panel has been added to the Synerise platform, providing an overview of the latest developments and updates that can assist you in your work with the platform. 
Check out the Notification Panel regularly to stay up to date on all new features, improvements and fixes. The use cases that may inspire you to implement various interesting scenarios in your campaign are also available in the Notification Panel. 
That is it for our Q1 product summary! We hope this gives you a sense of the latest updates and conveniences that Synerise can offer as we continue to build an intuitive, powerful, data-driven platform to help you get to the heart of your insights more quickly. 
Hungry for more? 
Wondering what we have planned for the rest of 2022? We have a host of great new features on the horizon, so bookmark this blog post and keep checking back for future updates. 
Stay tuned for more news on what we have in store and be sure to reach out if you have any feedback or suggestions of your own. 
We serve a daily portion of news on our release notes website. Visit the page and be up to date with the news, improvements, and bug fixes in our app!